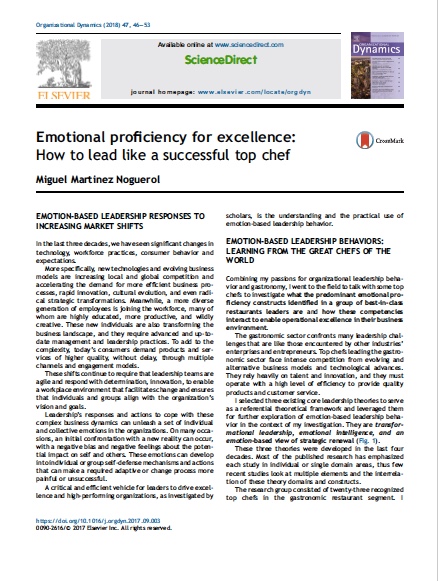 In 2016, I conducted an academic research, as part of a graduate Master program in Consulting and Coaching for Change that I attended at INSEAD in Fontaineblue-France. The primary focus and purpose of this research was to identifying and analyzing predominant emotion-based leadership competencies demonstrated by a selected group of successful organizational leaders that led their organizations to excellence in operations and customer services.
I integrated the research findings into an emotional leadership competency model, with 12 predominant leadership constructs and three leadership archetypes.
Emotional Proficiency for Excellence - Learning from the Great Chefs of the World
Executive Master in Consulting & Coaching for Change - INSEAD
Abstract
Over the past 30 years, extensive research has suggested that Transformational Leadership behavior, the emotional intelligence capability, and building the appropriate emotional context in organizations can impact leadership effectiveness in such a way as to drive excellence, innovation, and change.
Among high performing organizations, the gastronomic restaurant segment has shown itself to confront many of the leadership challenges that other industries, corporate leaders, and entrepreneurs face. Executive chefs and chef-owners have a significant leadership role to play in their organizations through a variety of operational and social processes. Among them, only an Elite group of Chefs achieve the recognition to be best-in-class, by operating with excellence, innovation and delivering great customer experiences.
This study aims to explore and integrate a holistic view of emotion-based leadership behaviors and to do so by investigating: (1) What are the predominant emotional proficiency constructs identified in a group of best-in-class gastronomic restaurants chefs? And (2) How these competencies act and interact to enable operational excellence and optimal customer's experiences in their business environment?
In this study, I identified twelve predominant constructs and integrated them into a leadership competency model, and into three leadership archetypes—Passionate Nonconformist, Determined Eagle Eye, and Trusted Coach—the components of which appeared to have a positive impact on leadership effectiveness and organizational excellence.